(12.01.2016 – 02:54 SLT – dailymirror.lk)
Colombo Royal College Principal Upali Gunasekera has been transferred to the Education Ministry with immediate effect, informed sources said yesterday.
Mr. Gunasekera, who was the Principal of the Royal College since 2003, has been transferred pending an investigation, they said.
Meanwhile, Thurstan College Principal B.A. Abeyratne is tipped to be appointed as the new Principal of Royal College, they said. Earlier, Mr. Abeyratne was the Ananda College Principal and later transferred to the Education Ministry before taking up duties as the Principal of Thurstan College.
++++++++++++++++++++++++
Crooked Royal principal caught conducting classes illegally on the sly ! Akila boots him out
(10.01.2016 – 23:15 SLT – lankaenews.com)
The principal of Royal College, Colombo  who was conducting  a class on the sly without the knowledge of the education ministry was caught red handed , and the minister of education Akila Viraj Kariyawasam has taken action against him immediately.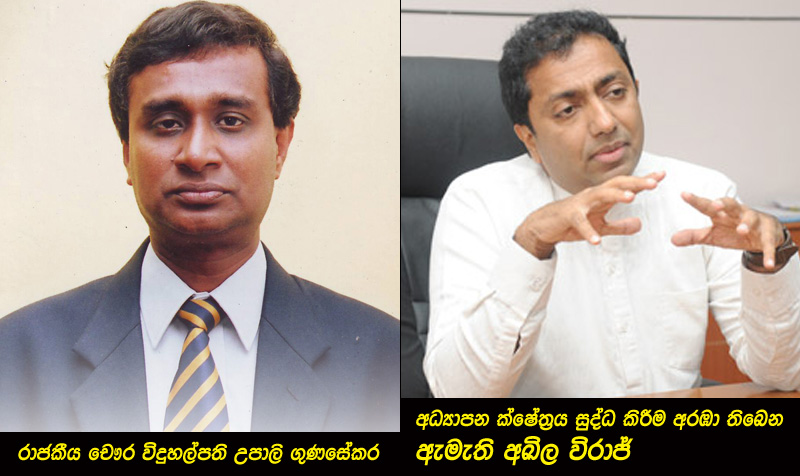 In the super grade schools including Royal College , classes comprising 40 children each   have been commenced separately for admission of grade five students who secure the highest marks at the scholarship exam to grade six. The Royal College principal on the other hand has conducted separate classes under this pretext on the sly to admit 40 other students, and he had not informed the education ministry of that. Moreover he had collected prohibitive fees to admit students to that class.
When  this came to light , the education minister had instructed that students who are successful at the grade 5 scholarship exam be admitted to that class. Accordingly, 40 students who secured places at Ananda College and not Royal College will secure places at Royal College, and those who obtained lower marks will secure places at Ananda College to fill the 40 vacancies arising at Ananda College.  As this chain extends to the lowest classes, 40 students who did not get a super grade school will now  secure places in a super grade school.
The delinquent principal of Royal College has been immediately transferred out , based on reports. May we recall Lanka e news during the last regime made a number of unsavory exposures about this crooked and corrupt principal. Through his colossal illicit earnings, he had become an owner of 5 super luxury mansions in Colombo, accordiing to reports. Every such mansion has a swimming pool, it is learnt.
++++++++++++++++++++++++++
Royal College Principal's Daughter Rallies Support To Complain To President Against Transfer
(11.01.2016 – 06:51 SLT – asianmirror.lk)
Following the transfer of Royal College Principal Upali Gunasekara from his post, his supporters have started a campaign to prevent it from being implemented.
Informed sources told Asian Mirror that one of his daughters have sent messages to her friends asking them to complain to the President directly.
"There has been an order give to remove my father from royal. Please call 1919 thats presidental hotline, and complain about it and ask the president to take an action against it. And please spread the word if you can. Tell as much as people you can to call and complain. There has been no inquiry done whatsoever regarding to this and there is no base for the accusations", she has said through her message last evening.
Meanwhile, a petition campaign has been launched this morning at the Royal College premises, to influence the Education Minister to revert his decision.
A Royal College teacher told Asian Mirror that a petition has been kept along with the teachers' attendance book for them to sign when they arrive early this morning.
The teachers are left with no alternative but to sign the document, another teacher said.
********************** [ Back to Amarasara News – Home ]