–
Video : SL's 2nd int'l airport declared open
(18.03.2013 11:11 SLT – dailymirror.lk)
Sri Lanka's second international airport, the Mattala Rajapaksa International Airport (MRIA) commenced operation with the landing of a Sri Lankan Airline flight with the President onboard a short while ago.
The Airport was commissioned at the auspicious time of 10.54 a.m. with SriLankan flight UL 226 carrying President Mahinda Rajapaksa, first lady Shiranthi Rajapaksa and a few cabinet ministers touched down at the newly laid runway.
It was followed by Air Arabia flight GO-508 from Sarjah and Air Dubai flight AZ 88-55 from the United States.
The MRIA has the capacity to handle one million passengers a year and the 3,500-metre runway can accommodate large passenger aircraft such as Airbus 380. This provides the opportunity for national carrier SriLankan and Mihin Air to forge ahead with greater strength and confidence, Deputy Civil Aviation Minister Geetanjana Gunawardana said.
• VIDEO
——————————————–
VIDEO : Inaugural flight lands at Mattala; MRIA declared open
(18.03.2013 11:10 SLT – adaderana.lk)
The special SriLankan airlines flight carrying President Rajapaksa landed at the Mattala Rajapaksa International Airport a short while ago. With the President arriving as the first passenger the MRIA was declared open a short while ago.
Construction on the $209 million first phase of the airport began in November 2009. The new international airport is expected to expand the local aviation industry whilst being a catalyst for the country's economic development enabling international trade, tourism, vocational training and employment. It is being implemented as an eco-friendly project.
The Mattala airport will also support the international cricket stadium, convention centre, harbour and most importantly the emerging economic zone and the International IT Park. MRIA will also be the only available air strip that could land the world's largest aircraft, A380.
• VIDEO
——————————————–
————————————————–
Sri Lanka's 2nd International Airport awarded International Airport Certification Ceremonial Opening Monday (18.03.2013)
(17.03.2013 – news.lk)
Sri Lanka Civil Aviation Ministry said that its proposed second international Air Port has been awarded the international compliance certificate for its operation.
The minister of Civil Aviation said that the International Airport Certification (certifications of compliance and certification of aerodrome) to the Mattala Rajapaksa International Airport has been awarded and this would enable the Air Port to operate as an international airport from its inception.
President Mahinda Rajapaksa will commission Mattala Rajapaksa International Airport on March 18. This is the second International Airport in Sri Lanka, he said.
"This is the first ever Sri Lankan International Airport to be operated as an International Airport from the day one of its commencement of  operations", Civil Aviation Minister Piyankara Jayaratne has said.
He also said the BIA commenced operations in 1963, but received international status in 1968.
This is considered as a significant landmark in the journey of Sri Lanka towards becoming the aviation hub in Asia under Mahinda Chinthanaya – Vision for the Future. The airport has a one million passenger handling capacity.
Minister Jayaratne pointed out that the second phase of the development project will commence after March 18 which will give a handling of nine million passenger capacity by June 2015. After completion of its second phase, the Mattala international airport will handle five million passengers.
Once all development projects are completed, Sri Lanka's International Airports will have the capacity of handling 21 million passengers annually.
Sri Lanka signed a Memorandum of Understanding (MoU) with Lufthansa to set up a aircraft maintenance centre. This would bring a significant amount of income to Sri Lanka.
The minister has pointed that the Sri Lanka Civil Aviation Authority is in 19 place among 181 countries in the world, fourth place among 34 countries in the Pacific region and first place in South Asia, in its capability and carrying out its services/duties.
———————————————
All set for opening of the Mattala Rajapaksa International Airport
(17.03.2013 18:23 SLT – newsfirst.lk)
Opening a new chapter in the history of Aviation in Sri Lanka, the Mattala Rajapaksa International Airport will open its doors tomorrow.
The first phase of the airport can comfortably accommodate one million passengers annually.
The first phase of the Mattala Rajapaksa International Airport  was constructed with Chinese aid using local engineering knowledge.
One of the most notable features of the airport is the passenger terminal.
The passenger terminal which comprises of a courtyard as well, has been constructed in an environmentally-friendly manner, tapping the local architectural knowledge base.
The terminal which spans an area of 12,000 thousand square metres, is fully equipped with modern technology.
The staff have also been especially trained to provide efficient service to passengers.
Another notable feature of the Mattala Airport is that a separate baggage transfer system has been installed for passengers on domestic flights.
Two bridges connecting the terminal to aircraft have been erected at the terminal.
Airport and Aviation Services Sri Lanka Limited, says that it expects numerous benefits from this airport due to it being uniquely located on the borders of three provinces.
"Numerous districts in Sri Lanka, not only the Hambantota district will reap benefits from this, as the airport is located bordering the Sabaragamuwa, Uva and Eastern Provinces. If you take the number of Sri Lankan workers abroad, about 93 percent are from these provinces. The Rajapaksa International Airport will be more of a boon than an inconvenience to them. The cargo terminal at the airport has been constructed in a manner which will expedite the import of local products.
The cargo terminal which spans an area of five thousand square metres can handle cargo of up to 45,000 metric tonnes annually."
According to Sri Lanka's geographical location, all continents excepting the American continent can be reached within eight hours. The aviation industry is an industry from which many economic benefits can be reaped. We are proud to say that the Mattala Rajapaksa International Airport will host international flights from the day it commences operations," said Chairman of the Airport and Aviation Services (Sri Lanka) Ltd. Prasanna Wickramasuriya.
——————————————–
Mattala Rajapaksa International Airport – all set for grand opening tomorrow (18.03.2013)
(17.03.2013 – sundayobserver.lk)
The grand opening of the Mattala Rajapaksa International Airport (MRIA), the second international airport by President Mahinda Rajapaksa will take place tomorrow (18.03.2013) at 10 am.
The first phase of the US$ 220 million project, with a capacity to handle one million air passengers per year will come into operation with international flights from tomorrow, Civil Aviation Minister Piyankara Jayaratne said on Friday.
He said the second phase of the MRIA will also commence following the opening of the first phase thereby increasing its capacity to handle five million passengers a year by 2015. "MRIA will not be a white elephant as claimed by some Opposition politicians but a fully operational airport from the day of its opening", he said.
The new MRIA will take Sri Lanka to a higher level and it will become one of the major attractions for international flights as it could facilitate landing and taking off of the world's biggest aircraft A380.
The Civil Aviation Authority of Sri Lanka which is among the first 20 institutions in the International Civil Aviation Organisation, regulates and assesses the civil aviation services and airports and finalised the certification on Friday that MRIA and its operations are in conformity with international standards by awarding the Aeronautical Service Provider Licence for the airport. Civil Aviation Authority officials said that they had awarded the licence to the MRIA as they were satisfied with the operational aspects and the standards of the services and facilities available thereafter through inspection of the project from the date of commencing construction work.
The process was completed by the Civil Aviation Authority after a night landing of a flight at the MRIA.Civil Aviation Services Ltd, Chairman Prasanna J. Wickremasuriya said that SriLankan, Fly Dubai and Air Arabia will commence flights from Mattala from tomorrow. More international airlines have expressed a keenness in starting flights to Mattala.
——————————————-
• The Official Website of :

Mattala Rajapaksa International Airport
———————————————
• Photos – from gossiplankanews.com
———————————————
• Youtube Videos :
Video 01 : Hambantota International Airport Theme Song – from HIA Sri Lanka
Video 02 : http://www.youtube.com/watch?v=JBuVhKhQ1eY
Video 03 : http://www.youtube.com/watch?v=PcfLdqKoqxc
Video 04 : http://www.youtube.com/watch?v=nJoGZycbmxY
Video 05 : http://www.youtube.com/watch?v=qitcYwSR0cw
Video 06 : http://www.youtube.com/watch?v=AfOnEIondEQ
Video 07 : http://www.youtube.com/watch?v=afRRMTLTnzI
Video 08 : http://www.youtube.com/watch?v=MHlx0qFIDhQ
Video 09 : http://www.youtube.com/watch?v=dKJwm8WT83M
Video 10 : http://www.youtube.com/watch?v=Wtrmd1q7dog
Video 11 : http://www.youtube.com/watch?v=f8mjsHunc6I
Video 12 : http://www.youtube.com/watch?v=YbpAlhXxQbA
—————————————-
Mattala Rajapaksa International Airport opens tomorrow with pomp and pageantry
(17.03.2013 – sundaytimes.lk)
Tourist hotspots easily accessible from Hambantota, says SriLankan CEO
Sri Lanka's second aerial gateway to the outside world, built at a staggering 26 billion rupees, will be opened with pomp and pageantry tomorrow. Built with Chinese assistance, the Mattala Rajapaksa International Airport (MRIA) is situated close to an elephant infested jungle stretch. It is 43 kilometres from Hambantota.
At the auspicious time of 9 a.m, President Mahinda Rajapaksa will declare open the airport in the presence of dignitaries from China as well as members of the diplomatic corps based in Colombo.Among the flights scheduled to arrive and depart on the first day of the opening of Sri Lanka's second international airport are a specially chartered aircraft carrying passengers from the USA as well as an Air Arabia flight from Sharjah and a Fly Dubai flight from Dubai, Airport and Aviation Services (AAS) Chairman Prasanna Wickramasuriya said.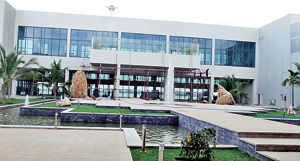 SriLankan Airlines has scheduled flights to four destinations to operate from the MRIA. Mihin Air will also operate a weekly flight to Buddha Gaya from MRIA starting this week.SriLankan Airlines Chief Executive Officer (CEO) Kapila Chandrasena told the Sunday Times that SriLankan flights to and from Beijing, Shanghai via Bangkok, Riyadh and Male will operate from the MRIA.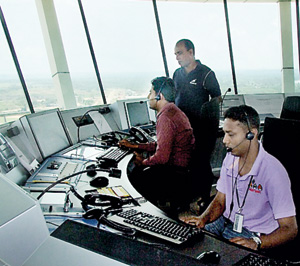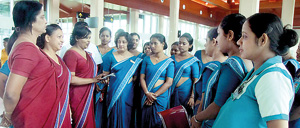 Training in progress for airline traffic controllers and airline hostesses
"We have done our market valuation and found that flights to and from these destinations are viable," Mr.Chandrasena said.He said the two Chinese destinations had been picked as 90 per cent of passages from China are headed for Male and hence transiting at Mattala would be a more convenient option.
The Middle East flight is to attract Sri Lankan workers, particularly from the Southern and Eastern Provinces who go to Saudi Arabia for employment, while the Mihin Air flight is for the convenience of Buddhist pilgrims who visit the city of Buddha Gaya in northern India.
Initially eight SriLankan flights will operate from Mattala, twice weekly to all four destinations. Over 530 members of the AAS have been transferred to Mattala to man the new airport but the entire staff members to be recruited to Mattala Airport will exceed 2,000, the AAS Chairman said.
The airport has been built in an environment-friendly manner incorporating the natural beauty of the area while the interiors are based on local architecture, he said. It is expected to be popular with foreign tourists. "Some of the tourist's hotspots such as Nuwara Eliya, Arugam Bay and other areas in the Eastern Province and Yala are all easily accessible from Hambantota," he said.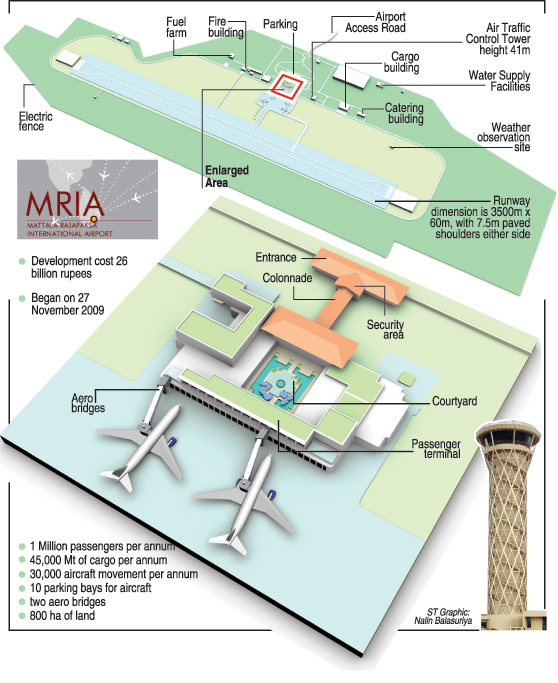 The other groups the airport hopes to attract are Sri Lankans leaving for employment in the Middle East. "More than 90 per cent of Lankans who go to the Middle East come from the Southern, Eastern, Uva and Sabaragamuwa Province and for them departing from and arriving at Mattala will save on travel time to their homes," Mr.Wickramasuriya added.
SriLankan Airlines flights to several destinations including Shanghai, Riyadh, Beijing and Male will be stopping over in Matala while Fly Dubai and Air Arabia will also operate flight to and from (BIA) through Mattala.
However Mr. Wickramasuriya denied there are any moves to close down BIA. "We are nearing the completion of the Katunayaka –Colombo expressway and once that is done, it will take only 33 minutes to get to the airport from Colombo," he said. The long term plan, Mr. Wickramasuriya said, is to link BIA to MRIA by road via the expressway and once this as done, the travel time between the two international airports would be three and half hours.
Meanwhile Civil Aviation Director General H. M. C. Nimalasiri has notified that every aircraft operating into and out of MRIA should conform to the applicable national laws, regulations, rules and implementing standards and also the established procedures relating to entry and departure of aircraft, entry and departure of persons as well as baggage.
The applicable screening processes will be performed by the respective Government authorities in charge of Customs, immigration and emigration, aviation security, public health and plant and animal quarantine.
Discount for airlines using MRIA
International airlines operating in and out of the Mattala Rajapaksa International Airport (MRIA) will be given up to 50 per cent discounts on landing and parking charges for one year, Civil Aviation Minister Priyankara Jayaratna has said.
He said the discount would be reduced to 25 per cent next year and this rate would continue till 2017.Airlines using the new airport would also be offered a 60 per cent discount on ground handling charges this year. In 2014, they would get a 50 per cent discount and from 2015-2017 a 40 per cent discount.
—————————————-
—————————————–
• MRIA – from divaina.com (18.03.2013)
********************** [ Back to Amarasara News – Home ]